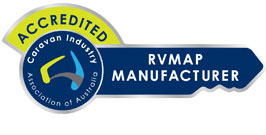 Kratzmann is proud to be fully accredited as a national RVMAP manufacturer of caravans, camping trailers and motorhomes.
To achieve RVMAP accredited status, members must be 100% compliant of business processes and products; anything less is not acceptable. The presence of RVMAP badge in every Kratzmann product is a clear indication of our commitment to all relevant RVMAP regulations.
About RVMAP
Caravan Industry Association of Australia is the peak national body for the Australian caravan and camping industry representing over 5000 industry businesses ranging from caravan parks, manufacturers and retailers of industry products, suppliers of goods and services, and service providers. Buying products displaying RVMAP accredited badges means that their businesses are inspected for quality and safety in compliance with RVMAP standards.